WILLIAM GIBSON'S PRÉCIS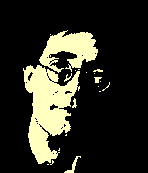 WILLIAM GIBSON WAS BORN IN CONWAY,
SOUTH CAROLINA ON MARCH 17,1948.
HIS FATHER WAS A CIVILIAN CONTRACTOR
WHO WAS AT THE BUILDING OF THE OAK
RIDGE NUCLEAR FACILITY. HE GREW UP
WITH HIS MOTHER IN THE SOUTHWEST OF
VIRGINIA, LATER ENTERING A BOARDING
SCHOOL IN ARIZONA. AFTER BEING RE-
JECTED FOR THE DRAFT IN 1968, HE
RELOCATED TO TORONTO, CANADA WHERE
HE LIVED FOR A BRIEF PERIOD, LATER
SETTLING IN VANCOUVER, BRITISH
COLUMBIA IN 1972.
WILLIAM GIBSON STARTED WRITING SHORT-
STORIES WHILE EARNING HIS BACHELOR'S
DEGREE IN ENGLISH AT THE UNIVERSITY
OF BRITISH COLUMBIA.
HE WROTE HIS FIRST NOVEL, NEUROMANCER,
IN 1984. THIS WAS BEFORE THE GLOBAL
INTERNET EXISTED, AND CLEARLY
PREDICTED THE IMPACT THAT RAPIDLY-
ADVANCING TECHNOLOGY WOULD HAVE ON
SOCIETY. THE NOVEL WON THE HUGO AWARD,
THE PHILIP K. DICK AWARD. AND THE
NEBULA AWARD.
    

BACK TO THE TOP

RETURN TO THE MAIN PAGE